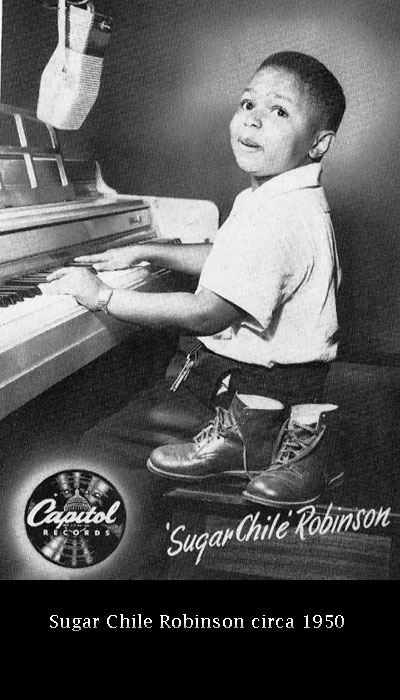 Frank Isaac Robinson (born 28 December 1938),[1] known in his early career as a musician as Sugar Chile Robinson, is an American blues and boogie-woogie pianist, singer, and later psychologist, whose career began as a child prodigy.
Robinson was born in Detroit, Michigan. At an early age he showed unusual gifts singing the blues and accompanying himself on the piano. He won a talent show at the Paradise Theater in Detroit at the age of three, and in 1945 played guest spots at the theater with Lionel Hampton, who was prevented by child protection legislation from taking him on tour with him. However, he performed on radio with Hampton and Harry "The Hipster" Gibson, and also appeared as himself in the Hollywood film No Leave, No Love, starring Van Johnson and Keenan Wynn. In 1946, he played for President Harry S. Truman at the White House, shouting out "How'm I Doin', Mr. President?" – which became his catchphrase – during his performance of "Caledonia". He began touring major theaters, setting box office records in Detroit and California. In 1949 he was given special permission to join the American Federation of Musicians and record, his first releases on Capitol Records, "Numbers Boogie" and "Caldonia", both reaching the Billboard R&B chart. In 1950, he toured and appeared on television with Count Basie, and appeared in a short film 'Sugar Chile' Robinson, Billie Holiday, Count Basie and His Sextet. The following year, he toured the UK, appearing at the London Palladium. He stopped recording in 1952, later explaining:[1] "I wanted to go to school… I wanted some school background in me and I asked my Dad if I could stop, and I went to school because I honestly wanted my college diploma."
Until 1956 he continued to make occasional appearances as a jazz musician, billed as Frank Robinson, and performed on one occasion with Gerry Mulligan, but then gave up his musical career entirely. Continuing his academic studies, he earned a Ph.D. in psychology from the University of Michigan. In the 1960s, he worked and sold advertisement for Chuck Johnson, for Soul Beat on WGPR-TV Detroit, and also helped set up small record labels in Detroit and opened a recording studio. [Lando] In recent years he has made a comeback as a musician with the help of the American Music Research Foundation. In 2002, he appeared at a special concert celebrating Detroit music, and in 2007 he traveled to Britain to appear at a rock and roll weekend festival.
I am also now back in touch with Mr. Frank I [Sugar Chile] Robinson who still lives in Detroit, Michigan.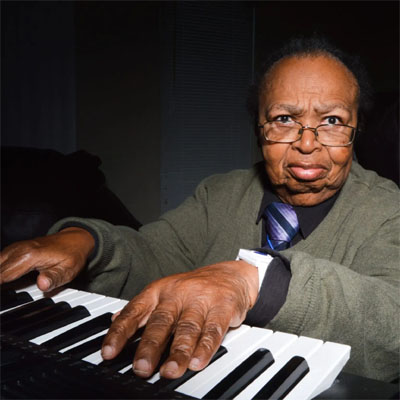 At that time, Rufus Wonder's personal manager was the famous Organist Mr. Herman Davis of Detroit, Michigan, who also played with Ernie Freeman.
Rufus, has performed onstage with such artists as, Bay area Rapper Keldamuzik of Diva TV, Rapper Shavone Pickett, Rapper President L. Davis, Rapper D' Labre, Rapper and Spoken Word Artist' Keith Thompson, Spoken Word Artist' Paradise, And Interview on the Oakland Is., TV Show own by Jimmy Guy, with Vocalist' Ronda, Benin, The Sounds Of Urban Life Soldiers,
The "Fabulous Counts", "Little Milton", the famous dancers "Oscar Hucklebee", & "Caldonia Young", Ed Henry,
Steve Mancha, "100 Proof Aged in Soul", "The DuKays", "The Dells", "James [Zeek] Brown", who formerly sang with the Calvays, Accents, and the Blenders., "The Redd Saunders Band in Chicago", "Harvey Scales & the Seven Sounds", Dennis Edwards, "Carl Carlton, also was known as "Little Carl Carlton",
"Sugar Pie Desanto", "The Mar Keys", William Bell, "The Temptations", Billy Preston, Betty Everette, Alberta Adams, Christine Katrell, "the O' town Passions",
"the Cleveland Jones Temptation Revue", "Danny A. Thomas, a former member of Con Funk Shun Stardom., "Just Rick, who was the former base singer for The Exclusives, The Elusives, the Tint of Darkness, The Boys on The Block, and The O'Town Passions. Rufus have shared the stage with "Lee Williams", "God's New Creations", "The Oakland Heirs", "Joe Williams", and "Inez Jones", The famous actress, "Colostine
[Kuki] Boatwright" who is in the movie Cooley High, and "Cynthia Joy" , actress & model from Great Neck, New York, to name a few.
He has been booked through , Rodgers & Rodgers theatrical Enterprises out of Detroit, Michigan, The Jimmy Daniel's Revue, of the Shaw artist agency, out of New York, Dale Warren Agency, out of Milwaukee, Wisconsin, The little theater group, which was run by Mr. Mosley, and Mr. Adams of the Negro Charities of America out of Chicago, Illinois, whose first names is unknown.
Rufus Wonder has worked with famous Photographers and Productions people, such as…
Ray Mc Cullough, MC Collins, and Walter Jenkins. Ray Mc Cullough, and Walter Jenkins, of Round About L A, TV shows, Video unlimited productions, and AAMEN TV Los Angeles. Where He worked as second cameraman, also lay-out & design artist for The L A TV Journal, which was owned by Ray Mc Cullough.
Also MC Collins, Photographer, Lighting Tech., Video, DVD producer, and Actor.
The inventor of the, African American Time Piece Watch, and Lighting Tech for the Hollywood's Motion Picture Studios, such as Universal, Paramount, MGM, 20Centurey Fox, and Etc.
I've done similar work with M C Collins, with designs and photography.
Rufus Wonder, was a magazine distributor for the Music Connections Magazine, Editor & publishers: Michael Dolan & Eric Bateli, out of Hollywood. The Happenings magazine Editor & publisher, Dr. Lee of the Sacramento Observer Newspaper, out of Sacramento, CA.
Rufus, was the sole distributor for the Happenings magazine in the Southern California area. The Happenings magazine, office was located across the street from the Grauman's Chinese theater, in the Max Factor building in Hollywood, where the famous writer Suzanne Vickstrom was the Hollywood editor.