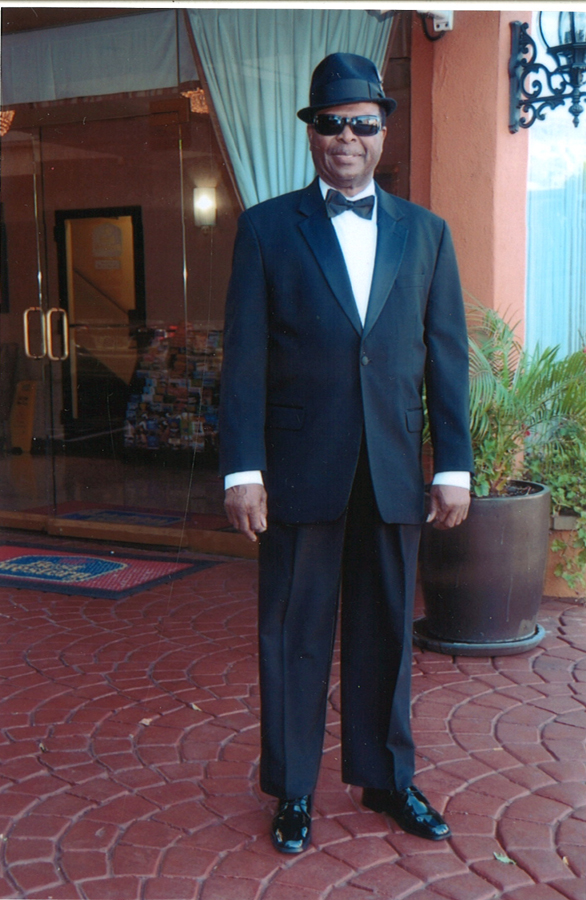 Born in Bossier City, Louisiana, Rufus lived with his father Rufus Harris and mother Louise (Breckenridge) Harris, until he was three months old. Rufus, was born Arthur Lee Harris or Mathew Breckenridge, depending on what side of the family you were on.
He used Arthur Lee Harris, until he was 14 years old.
Until he got his birth records he didn't know that his other great aunt had put his mother's maiden name on his birth records, saying his father was unknown.
After graduating from Theodore Roosevelt high school in, Fresno, California he named himself Rufus using his father's first name, and Wonder, after a ski shop in Shreveport, Louisiana. His father, Rufus Harris, is now deceased, he was born in 1909 and passed away in 1986, in Los Angeles, CA.
His mother, before she passed, went by the name of Louise Meyers. She was born 09/11/1917, after moving from Los Angeles, CA she lived in Oakland, California. She is also now deceased, she passed in 2012.

His great uncle and aunt, Henry and Mary Booker, adopted him at the age of 3 months old. They lived in Benton, Louisiana until Rufus's great uncle Henry Booker, passed when Rufus, was at the age of 10 years old.
Rufus and his great aunt Mary Booker, moved to Oakland, California when he was at the age of 12, she passed in 1985.
They lived in Oakland for a short period of time, then they moved to Fresno, California. Where his oldest Great uncle and aunt, Rallie and Lillie Mae Smith, bought a house where Rufus, and his great aunt Mary Booker, lived, when he graduated from Theodore Roosevelt high school.I
In high school Rufus sang in his senior choir, and was a high jumper on the varsity track team. He performed in the West Coast Relays, the California Invitational, he was also in the high school Cadets. Rufus attended Edison Junior & Senior High school in Fresno, before transferring to Theodore Roosevelt high.
Rufus joined the Army Reserves when he was in the eleventh grade. After graduating from Theodore Roosevelt high school he moved to Los Angeles where he lived and worked for six months before he decided to transfer from the US Army reserves to go active duty in to the US Navy.
In the Navy he formed a singing group called the "Blenders". The members of the group were Aaron Fusilier, Vernon Mallett, Willie Davis, and Mathew R. Breckenridge (aka Rufus Wonder).
The Blenders performed in the special services in the military. They performed Overseas in Japan in places like Yokuska, Okinawa. In Tai Pae, Keylong, Fomosa, and in different places around in the South Pacific also in the Bekini Atolls, where they performed for the Atomic Energy Commission where there were Admirals, Generals, and the president of the United States were present.
There were about 1,000 ships to 150,000 civilians and military personnel in the area. In Hawaii - at Pearl Harbor in Honolulu - and on many ships, especially on the Bedoing Straite Aircraft carrier CVE 116, is where Rufus and a friend had a 15 minute television show once a week aboard ship that they televised to other ships at sea.
After the military he joined another group called "The Ripps", members were Leonard Dykes, Al Sheppard, Bill Norris, and Mathew R. Breckenridge (aka Rufus Wonder). Bill Norris, was also an excellent drummer, producer and vocalist. He was a member of the "Earl Grant's team" at that time.
He performed at many clubs around Los Angeles in the Hollywood circuit, until the group dismantled. Rufus decided to move to San Francisco where he performed in many nightclubs around the San Francisco bay area. At about 6:30 AM, one Saturday morning, Rufus was performing on stage at Club 47,- and after hours club on Mason street in San Francisco he was singing Little Willie John's song, "Fever", when all of a sudden Little Willie John walked through the door. Little Willie John came over to Rufus and shook his hand, thanking him for singing his song.
When Rufus left San Francisco for Chicago he worked the club circuit there in Chicago for awhile, then on to Detroit, Michigan where he recorded his first (45) single "Under The Moon", and "So Upset", which is now a Northern Soul Classic around the world ... thanks to Kev Roberts in the UK and all of the British of the Northern Soul Fever ... where the British are keeping Soul and R&B music alive around the world where a lot of artist and some people in the USA have forgotten about their own music. Until the British came on tour for the Soul Trip USA in Los Angeles: Hollywood: Las Vegas 2004: New York: New Jersey: Philadelphia 2006: Chicago: Detroit 2009, and the Soul Trip re-union in ORLANDO, Florida Spring 2011.
That brought a lot of artist who had stop performing and recording back to the fold.
Now a lot of artist and entertainers are recording as Independent artist forming their own record labels, and now staying active doing their own thing..